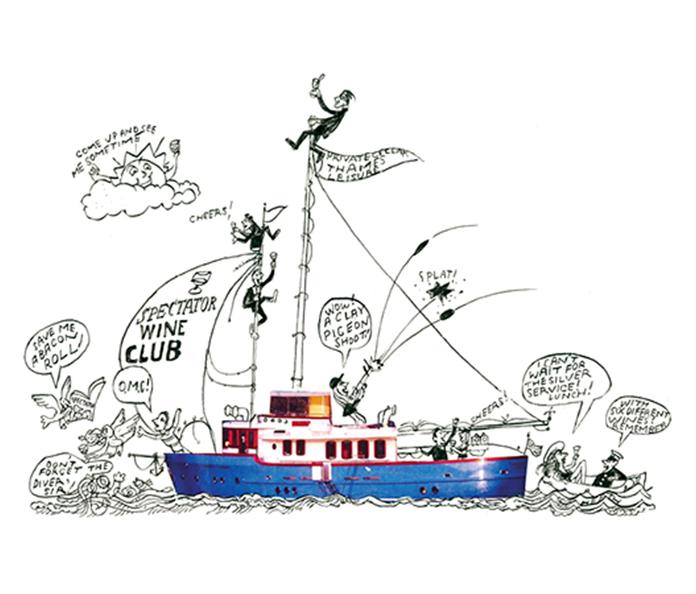 Spectator wine cruise - Friday 16 September 2022, 10:15 a.m. - 5:00 p.m.
WML202006
The Spectator, in association with Private Cellar and Thames Leisure, invites you to join drinks editor Martin Vander Weyer and drinks editor Jonathan Ray for a spectacular day of clays, claret, cognac and cruising on the River Thames on Friday September 16.
We will board Thames Sailing Barge Will – the largest such craft in existence, built in 1925 – at North Greenwich Pier at 10.15am and slip downstream through the Thames Barrier to Thamesmead. Here we will moor up and enjoy some clay pigeon shooting, using weapons such as a Browning and a Beretta over-and-under, a pump-action shotgun, a 100 year-old side-by-side game gun and an antique naval musketoon.
We will then repair below for a three-course lunch cooked in the galley and a tutored tasting of five exceptional wines, namely:
Domaine Chanson Bourgogne Blanc (Burgundy)
Ch. Tayet (Bordeaux Supérieur) 
Ch. Tour Baladoz (Grand Cru St Emilion) 
Ch. Haut Breton Larigaudière (Margaux) 
Taylor's 10 Year Old Tawny Port 
Coffee and Mentzendorff Kummel (in magnum) will be taken as we pass slowly by such fine sights as Woolwich Arsenal, the Old Royal Naval College and Cutty Sark at Greenwich, Millwall Docks, Canary Wharf, Limehouse and Wapping Steps before Tower Bridge opens especially for us and we toast Old Father Thames with Delamain Pale & Dry XO Cognac (in magnum). We will then dock at Tower Pier at 5 p.m.

Tickets are priced at £395 per person and will be restricted to just 30 readers so do book early to avoid disappointment.
What's included:
✓ Bacon roll and tea/coffee on arrival
✓ Clay pigeon shoot
✓ Aperitif of Hambledon Classic Cuvée or Taylor's Chip Dry Port and Tonic
✓ Three-course silver service lunch complete with five different wines
✓ Coffee, Mentzendorff Kummel and Delamain Pale & Dry XO Cognac (both served from magnum)
✓ Entry into onboard raffle with many fine prizes
✓ Prize for winning shot
✓ Goodie bag

Friday 16 September | 10:15 a.m. - 5:00 p.m.  | £395
To book by telephone call 020 7961 0015 (9am-5pm Mon-Fri)