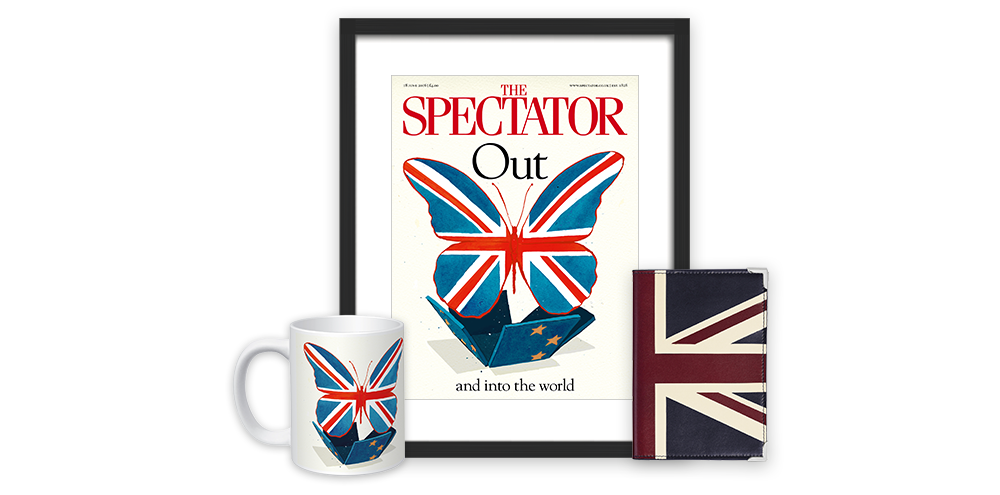 Commemorative Brexit bundle: framed Out cover, Spectator passport holder and commemorative mug
brexitbundle
Was £205 - reduced for subscribers to £135.
You can now own your favourite Spectator cover. Our prints will make the perfect gift or an excellent addition to your own collection. Framed covers will arrive in a black frame with a white mount. Prints are accompanied by a certificate of authenticity.
Aspinal of London's British double fold passport holder is hand-crafted using an intricate marquetry technique to reproduce its Union Jack design. The patriotic design, in the finest smooth Italian calf leather, wraps the holder from front to back. Inside, you will find complementary smooth navy blue leather. This quintessentially British piece is a refined yet playful staple and will add a splash of colour and personality to your travel essentials. The Aspinal signature branding adds a classic finishing touch to the interior, complimented by a subtle Spectator logo. 
Limited edition Spectator mug.
Weight: 284g
Capacity: 10oz / 285ml
Material: Stoneware mug
Made In: UK
Delivery within the UK only.